SMALL HOUSE FOR THE DEAD ?>
SMALL HOUSE FOR THE DEAD
performed in English or Hungarian by Csongor Köllő
directed by Grzegorz Ziółkowski
Texts: Salvatore Quasimodo's poems Letter to the Mother and To My Father (English translation by Csongor Köllő), and fragments of Tadeusz Różewicz's book Mother Departs (English translation by Barbara Bogoczek, revised by Grzegorz Ziółkowski)
Music: viola da gamba played alive by Soma Salat-Zakariás
The performance was created with support from Shoshin Theatre Association (Romania) and STUDY || ROSA.
Absence. Reminiscence. Parting. Void. Hope. Death. Clinging. Letting go. Resolve. Prayer. Confession.

This performance, made up of two parts, talks about the Mother-Child and Father-Child relationship within a fictive situation in continuous movement and change. Happening.

Csongor Köllő
---
Emergency Exit (video)
Photo album ATIS 2015 NICHE
---
The first etude of Small House for the Dead perfomance, Emergency exit, was created by Csongor Köllő (Romania) and Grzegorz Ziółkowski (Poland) during Acting Techniques Intensive Seminar ATIS 2013 RECYCLE led by STUDIO || ROSA at Adam Mickiewicz University in Poznań (Poland). The piece was elaborated and shared as Emergency Exit during ATIS NICHE in September 2015 in the Grotowski Institute's forest location in Brzezinka (Poland), within STUDIO || ROSA's Feeling the PULSE theatre exploration, supported by the Grotowski Institute. In February 2016, also as part of Feeling the PULSE, the second part titled Emergency Entrance was sketched with help from Marta Pautrzak (Poland) (lights) and a musician Maciej Zakrzewski (Poland). The miniature was presented as Emergency Exit in the Theatre Laboratory Space in Wrocław (Poland) on 23 and 24 February 2016. It was developed into a performance Small House for the Dead with help from a viola da gamba player Soma Salat-Zakariás (Romania) and Zsolt Visky (Romania), who provided wooden blocks (August 2016, Kolozsvár/Cluj-Napoca, Romania). The performance was first presented in the village of Kide/Chidea (Romania) on 29 August 2016 at the beginning of The Boat work session led by Köllő and Ziółkowski and organized by Shoshin Theatre Association. Later it was presented in: Csíkszereda/Miercurea Ciuc, Kide/Chidea and Kolozsvár/Cluj-Napoca during KaravanAct theatre festival organized by Shoshin (October 2016). All these performances were supervised by Grzegorz Ziółkowski.
---
---
Tadeusz Różewicz A small house

I – a small house for the dead

here they found their

last shelter

hands moving

in my direction

take me

with you take

don't let go

I was opened

and they moved in

to the cold

the void

the dark

this is

their

eternal light

this is forgiveness of sins

the resurrection of the body

this is the life everlasting
---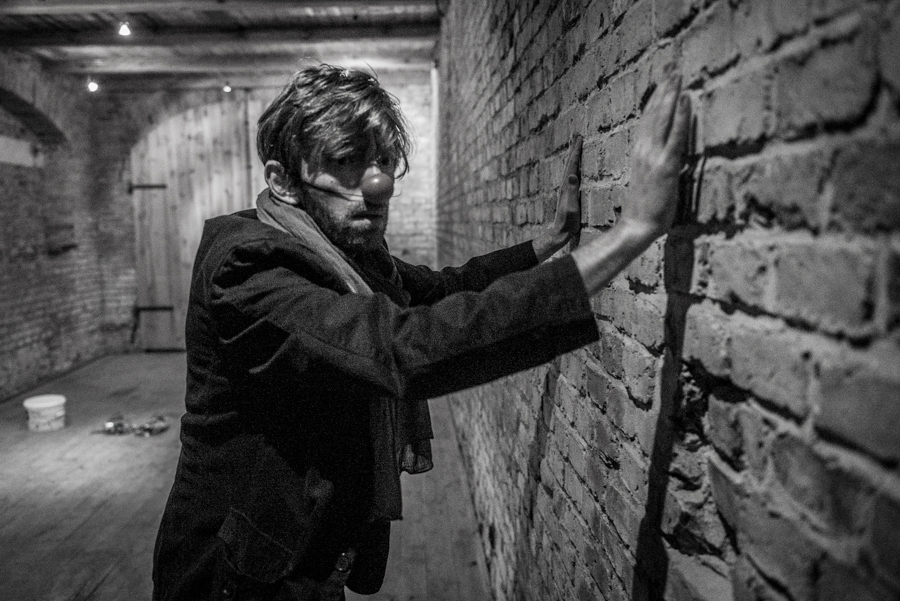 ---
Csongor Köllő (Romania) is an actor and director and teaches acting at the Faculty of Theatre and Television of Babeș-Bolyai University in Cluj-Napoca (Kolozsvár), Romania, since 2010. He also writes articles and essays about theatre in Hungarian and English. Between 2008–2013 he was an actor the Hungarian State Theatre in Cluj-Napoca, working with directors such as Matthias Langhoff, Gábor Tompa, Mihai Măniuțiu. Throughout the years he has placed emphasis on developing his craft, thereby meeting people (in the form of workshops, training and rehearsals) such as Yoshi Oida, Eugenio Barba and members of Odin Teatret, Rena Mirecka, Grzegorz Ziółkowski, Raúl Iaiza and others. He is co-founder and co-director of the Shoshin Theatre Association.
Zapisz
Zapisz
Zapisz
Zapisz
Zapisz
Zapisz
Zapisz