VERONICA'S DOUBLE ?>
VERONICA'S DOUBLE
by Andrea Madrid Mora and Grzegorz Ziółkowski
The miniature speaks about the necessity of facing something undesirable. About the importance of your actions when you are in a trap. About the humiliation of a woman until the end of her hope – death. About the dialogue between one life at different stages. In the end, Veronica will not be Veronica any more: she reaches the possibility of getting rid of her false, imposed personality. No more fights, no more misleading hopes… In the end, everything becomes clear and lucid.

Andrea Madrid Mora and Grzegorz Ziółkowski
---
Veronica's Double (video)
Photo album ATIS 2015 NICHE
---
The miniature's middle part, an etude Veronica's Room, was created during ATIS 2012 TRAP and ATIS 2013 FLOW & ETUDES. The piece was elaborated into a miniature during ATIS 2015 NICHE in Brzezinka's Matecznik. It was developed further in the Theatre Laboratory Space in Wrocław with support from Marta Pautrzak (Poland) (lights) and shared there with an audience on 23 and 24 February 2016. Later it was rehearsed and performed in Performing Arts Lab Espai Blanc (Barcelona) on 18 June 2016.
---
With text fragments from Jon Fosse's Rambuku (in English) and Ira Levin's Veronica's Room (in English and Catalan), two traditional Catalan songs, and a fragment of Walking Song by Meredith Monk
So, yes, yes.

Here we are.

And how often have we been sitting here like this.

It is as if we have always been here.

Year in and year out.

Have you and I been here always.

And you don't say anything.

Why don't you say something.

Don't just sit there, please.

Don't just sit there and watch, watch.

Don't do it.

Don't just sit there and watch.

Fragment of Jon Fosse's Rambuku
---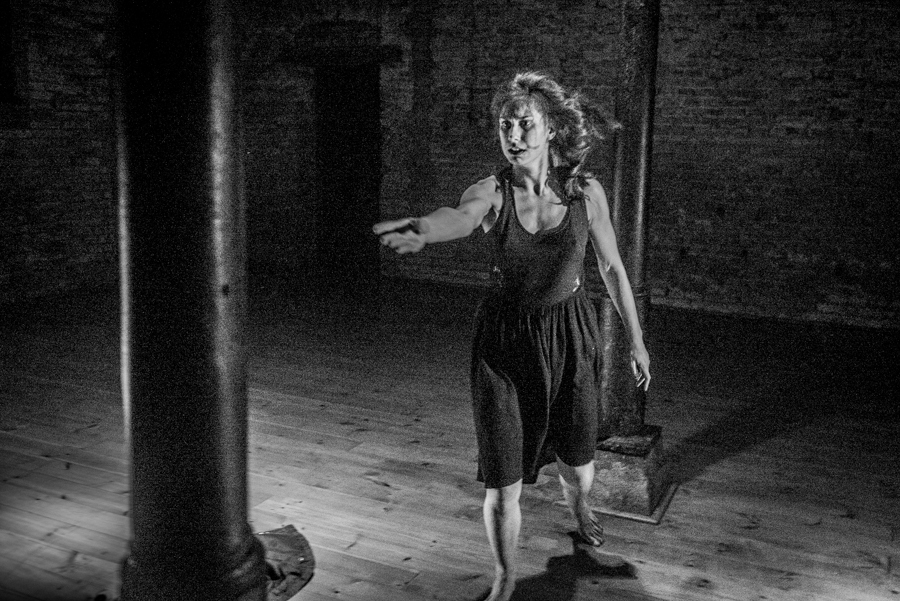 ---
Andrea Madrid Mora – Catalan actress who graduated in drama from the Institut del Teatre in Barcelona. Actress in the theatre company Obskene where she has been performing since 2010. In 2012 she decided to move to Poznań where she collaborated with STUDIO||ROSA while she was doing her practice in the framework of an Erasmus programme with Teatr Ósmego Dnia. Interested in Theatre of the Oppressed she founded Assalt Teatre as a collective that works with the handicapped, teenagers and elderly people in 2011. She has taken part in workshops led by Demain Printemps in Russia, Fitz Mauritze, Veronal and participated in ATIS 2012 TRAP, ATIS 2013 FLOW & ETUDES and ATIS 2015 NICHE.
Zapisz
Zapisz
Zapisz